Remember the Fallen © Sarah Vernon at Redbubble
Created in Photoshop with an image by Fabien Barral, a Victoria Cross from Wikimedia, my own textures and photos of my relations including my great-uncle, Captain Norman Austin Taylor, who was killed in France on 18th March, 1918, and is buried in the war cemetery at Étaples.
'Five foot ten of a beautiful young Englishman under French soil. Never a joke, never a look, never a word more to add to my store of memories. The book is shut up forever and as the years pass I shall remember less and less, till he becomes a vague personality; a stereotyped photograph.' Written by grandmother, Joyce Hoskyns née Austin Taylor
GREAT UNCLE NORMAN: 'SHOT BY A SINGLE SNIPER'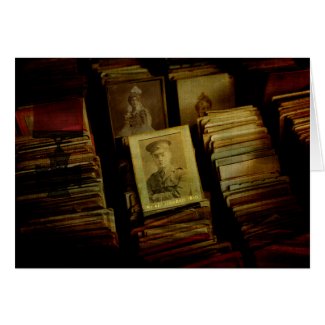 Remember the Fallen Card by FirstNightDesign
Available at the following galleries:
Redbubble
Crated
Zazzle US
Zazzle UK
Fine Art America [14 fulfillment centers in 5 countries]
Saatchi Art
Take care and keep laughing!
Filed under: Art & Design, Art Ways, History, Products Tagged: Apparel, bags, Cases & Skins, home decor, stationery, stickers, Wall Art
Original Article: https://firstnightdesign.wordpress.com/2016/06/24/first-night-design-remember-the-fallen-sympathy
Editors Notes:
I would remind you that this blog is produced free for the public good and you are welcome to republish or re-use this article or any other material freely anywhere without requesting further permission.
News & Views welcome always published as long as NO bad language or is not related to subject matter.
Thanks for following as always appreciate every like, mention , reblog or #tweet also our Our daily newspaper is added with all our posts daily:
Breaking News As It Happens When It Happens – Daily & News Wire Reports – Finance & Markets – B4 It Happens – Social & Media – Food & Health – History & Research – Britain & History – Scotland – Friends & Followers – Sales & Authors – #Tweet Your News Here – PC-Help & Repair – Featured Writers Newsroom – Chat & Bloggers News – Shop & Share – Healthcare – Sport & Reports – Press Releases & Reports – ….. more to come.
AceTweetMyNews : #Tweet this Daily Post & #Tweet Breaking News Here